Residency and exhibition
LEMON TIME
Residence 29 July to 14 August 2022
Exhibition 8 September to 19 November 2022
Artists Benoît Armange, Samuel Cordat, Marianne Dupain, Léo Gillet, Théo Hanosset, Andy Simon, Aliocha Tazi
Curators Andy Simon, Théo Hanosset & Studio Ursa Major
Maison Culturelle d'Ath Eloïse Blyau
With the support of the Wallonia-Brussels Federation and the Maison Culturelle d'Ath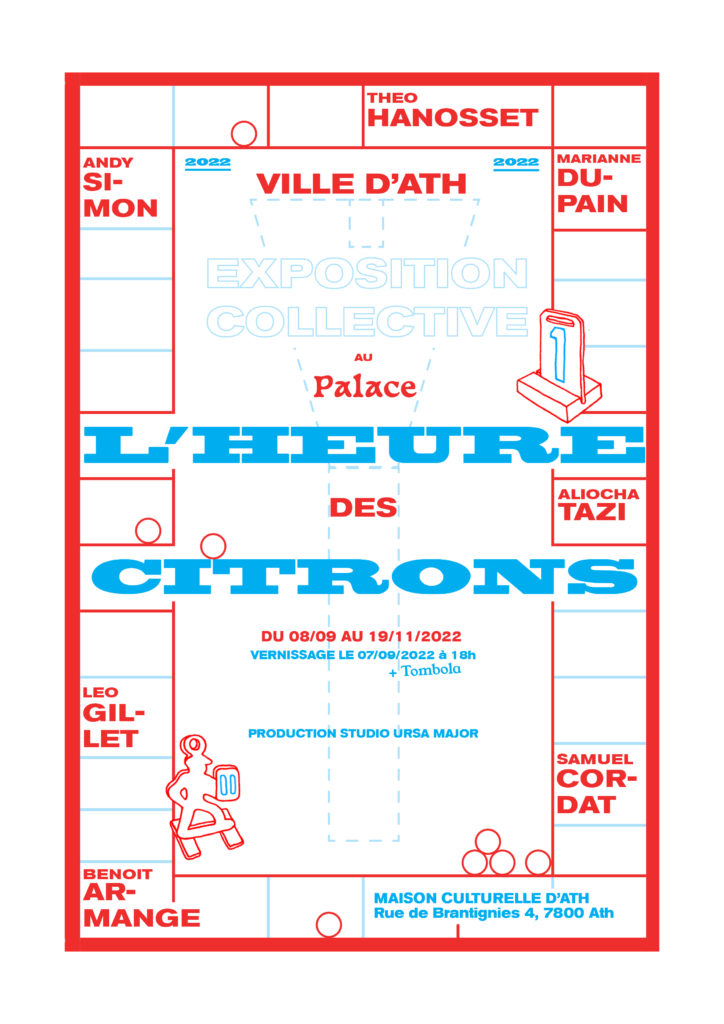 Lemon time: An expression referring to the half-time interval of a sports match. The moment when the players return to the changing rooms and eat quarters of lemons to regain their strength.
Enigmatic lines can often be seen on the squares of Wallonia's villages. They run alongside the buildings, sometimes even on them, and draw strange fictional territories. These are pelota ball courts, also called ballodromes.
In the province of Hainaut (Belgium), pelota ball has long been the most popular sport. However, as a victim of numerous societal changes, its practice is gradually dying out and the lines of its ballodromes are inexorably disappearing.
Reactivated at weekends during the struggles, its fields are transformed into places of social, political and festive life, only to become car parks again during the week.
It is this suspended time at Lemon Time that we are talking about here.
We invited Samuel Cordat, Marianne Dupain, Léo Gillet, Théo Hanosset, Andy Simon and Aliocha Tazi to survey these territories and to explore the spectres of this folklore, which they discovered for the most part during their two-week residency in Ath.
The look they took on the balling universe focused as much on the performative aspect of this sport, as on the sides, the folkloric and mystical universe that surrounds it, the interactions with the public space, or on the fields themselves, apprehended as new territories, composing a heterogeneous archive of a practice in disuse.
Members of the Fédération Artistique de Balle Pelote that they create during the residency, they question the very notion of memory and archive through the works they propose.
©AndySimonStudio